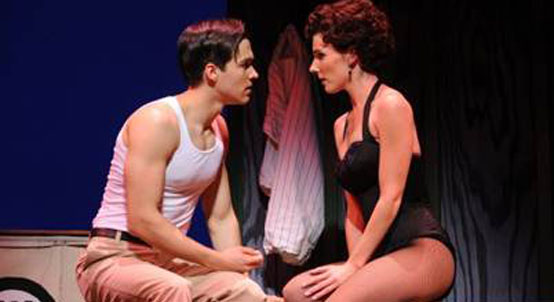 photo by Ken Jacques

Christopher Charles Wood (Joe Hardy) and Chryssie Whitehead (Lola)

.......................................................................................................................................................................................
Paper Mill Playhouse's production of "Damn Yankees" is just in time, as that epithet sails out in Port St. Lucie from legions of Mets fans watching Spring Training games. Running through April 1, no fooling, this production sparkles. You'll laugh and if you don't cry, trust me–your eyes will more than leak a little, and not just at the initial standing of the Washington Senators.
Consider this the Boys of Summer meets Faust. "Old" Joe makes a deal with the devil in the form of the soigné Mr. Applegate to become the long ball hitter the Senators need. No deal with the devil will be to the advantage of the opposition, but Joe knows a thing or two that may keep his tail from being toasted. How this unfolds is pure delight. And the crossover between Old Joe and Young Joe, well, keep your eyes wide open and even then you might miss the sweet bit of stagecraft that makes for theatre magic.
This heartwarming show boasts many Paper Mill veterans as well as newcomers. It was great to see Susan Mosher as "Sister," a role played by Jean Stapleton in the film, as well as Nancy Anderson, who thrilled audiences last season as the eponymous "Peter Pan" and soars here as ace sports reporter–a woman ahead of her time–Gloria Thorpe. Joseph Kolinski is "old" Joe opposite Patti Cohenour, as the long suffering Meg. Meg has a great deal of strength, especially when you consider that she's a 1950s vintage housewife, complete with Barbara Billingsley pearls, whose primary focus is pleasing her man. She's an active, smart and canny woman and her belief in her husband is rock-solid. Meg's chemistry with "young" Joe, Christopher Charles Wood, is as fraught as it is misunderstood. The reprise of "A Man Doesn't Know" that they share, when Shoeless Joe comes to see about a rented room, is so clearly romantic on Joe's side, as it is on Meg's, with the exception that Meg is ruminating on the man she knows will return even though she doesn't recognize him in front of her.
Gloria Thorpe's number "Shoeless Joe from Hannibal, Mo." is a tribute to the styles of dance where each member of the ensemble is skilled. There are ballet, tap, mid-century modern and more in this energetic number that celebrates masculine energy, as well as the sister who's doing it for herself. This was one of my favorite numbers in the entire show, along with cross-purposed palpable chemistry between Meg and Joe.
Ah, but what of the villains of the piece? Howard McGillin is unctuous and serpentine as Mr. Applegate, and unrepentantly self-aggrandizing, Applegate celebrates his own derring-do and spurring himself to greater mayhem. Pride goes before a fall, but our anti-hero doesn't discover this right away. The primary weapon in his arsenal is Lola, played here by Chryssie Whitehead, the ultimate femme fatale. Can Lola overcome Joe's firm resolve and love for his wife? "Whatever Lola Wants" begins as cat and mouse and progresses, at points, to being very similar to the Mini Cooper chase in the latest "Italian Job." This femme would be fatale for just about anyone, but Joe stands strong–no mean feat as you will see!
Another standout is the dancing in "Who's Got the Pain," part of the Joe Hardy Fan Club Tribute show just days before the race for the Pennant. Lola is supported by four handsome dancers who are bursting with masculine energy and verve and by their smiles, Taurean Everett and Grady McLeod Bowman especially look like they're having fun.
Act II opens with the most direct statements that could speak to the hearts of baseball lovers, "The Game." Spearheaded by Steve Czarnecki and Mike Cannon, it gives us a real sense of the sacrifices these young men make, pushing back one type of passion to make room for another. Song and dance seems to be the theme, as Applegate comes into his own in "Those Were the Good Old Days," coming back for a reprise in a very quick change looking Charles Aznavour-sharp.
The numbers I've mentioned above are my favorites from the show, and I'm certain you've got some of your own. "Heart" had many echoes in the audience as people sang under their breath and my hair got rearranged a few times by the laughter of the man behind me–this is a feel-good show at a time when we need it most, so take THAT Mr. Applegate!
"Damn Yankees" plays through April 1, just in time for Opening Day of Baseball Season! Get your tickets now by visiting the box office, the website at PaperMill.org or just call and drop them a dime, your team of ten or more can receive a discount on tickets! Call 973/379-3636, ext. 2438 and order now for best selection. PLAY BALL!