DISCLAIMER

Contents of QonStage are protected by federal copyright law and may not be reproduced in whole or part without permission. Unsolicited article submissions are not returned unless accompanied by a self-addressed, stamped envelope. QonStage is not supported by any advertisers, and we cannot accept responsibility for claims made by private submissions that contain unsolicited advertisers. By submitting articles (or any web related content for the site) to the Web site, the submitting itself gives (or warrant that the owner of such rights has expressly granted) the Web site and/or relevant affiliated companies the perpetual, non-exclusive right to use same content, questions, comments, and postings, in their original or edited form, in television programs, books, articles, commentaries, or in any other medium now known or later developed. Anyone who submits to the site also warrants that any "moral rights" in posted materials have been waived. Anyone who submits is not entitled to any compensation for such use.

Anyone who provides us with submissions of information or photographs agrees not to use the site for illegal purposes, or for the transmission of material that is unlawful, harassing, libelous (untrue and damaging to others), invasive of another's privacy, abusive, threatening, or obscene, or that infringes the copyrights (rights of an owner of written material) or other intellectual property of others. Anyone portrayed in pictures throughout the entire site is not necessarily specifiying their sexual orientation.

Anyone who accesses the site may not modify, copy, publish, display, transmit, adapt or in any way exploit the content of QonStage site unless permitted in writing by QonStage (and any one or all other entities with an interest in the relevant intellectual property). To request permission, E-mail info@QonStage.com. If permission is granted by us and by all other entities with an interest in the relevant intellectual property, you may not change or delete any author attribution, trademark, legend, copyright or other legal notice.

The information on this site is for general knowledge enrichment and entertainment only and is not intended to be a substitute for:

1) specific medical advice by your health care provider. You should not use the information on this site to diagnose or treat a health problem or disease. Please consult your health care provider with any questions or concerns you may have regarding your condition.

2) specific legal advice by your personal attorney. You should not use the information on this site as a legal opinion and your are encouraged to consult your personal legal advisor.

We do not endorse or take responsibility for the contents, advertising, products or other materials made available through any other linked site. Under no circumstances will we be held responsible or liable, directly or indirectly, for any loss or damage that is caused or alleged to have been caused to you in connection with your use of, or reliance on, any content, goods or services available on any other site. You should direct any concerns to that site's administrator or webmaster.




Advertisements

New York Q News
Fire Island Realtors
The Best Of Fire Island
Gay E-zine with everything hip and happening in New York City. News and events all around the city.
www.newyorkqnews.com
..........................................................
The best summer rentals properties and homes for sale in all of Fire Island, The Pines and the Grove.
www.fireislandrealtors.com
..........................................................
Fire Island Pines, Cherry Grove, Ocean Beach, Water Island & all of Fire Island Residentials Sales and Summer Rentals.
www.thebestoffireisland.com
..........................................................
Shopping Online?
Real Estate Blog
CJ Mingolelli
Gives Us a Try. Online Mega Mall. Your community online shopping mall/Apparel, Books, Movies, Cars, Homes and much, much more ...
www.qnewsmegamall.com
..........................................................
www.26west17.com
Real Estate News, tips and comments about New York City and Fire Island Real Estate.
Visit Our BLOG >>
..........................................................
Fire Island Pines & Cherry Grove Homes For Sale & Summer Rentals: Season, Month & Weekly.
www.cjmingolelli.com
..........................................................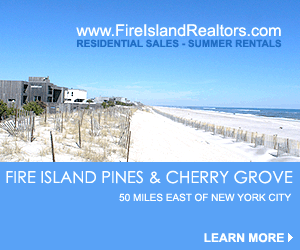 FEATURED HOME FOR SALE
MORE FIRE ISLAND HOMES FOR SALE & RENT AT:
The Best of Fire Island.com >>
- - - - - - - - - - - - - - - - - - - - - - - - - - - - - - - - - - - - - - - - - - - - - - - - - - - - - - - - - - - -